Dr. Michael Harvey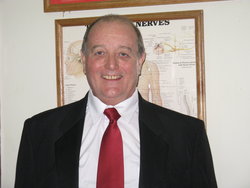 Dr. Michael Harvey is proud to provide professional chiropractic experience to the residents of the Island of Jamaica since 1998 after a nearly 20 year career as a US chiropractor. Dr. Harvey has personally rendered over 1.2 million chiropractic spinal adjustments, including to some of the most severely damaged spines which are found in Jamaica.
Dr. Harvey is one of the few chiropractors in the world with two chiropractic degrees; his first from Palmer College of Chiropractic, where chiropractic was born in 1895, Magna Cum Laude, with high honors in 1980 and a second from Sherman College of Chiropractic in 1982, where he received the Scallon Scholarship. At Sherman, Dr. Harvey was editor-in-chief of SPIZZERINCTUM, the College newspaper and served as the student member of the College Board of Regents.
He is a Diplomate of The National Board of Chiropractic Examiners, Parts I, II and III.
He has a bachelor's degree in Natural Sciences from Thomas Edison State University in New Jersey.
He was listed in Who's Who Among Students in American Colleges and Universities, 1979
and Outstanding Young Men of America, 1978 – 1980.
He was president of the Palmer College Chapter of the Students International Chiropractors Association, 1979.
Prior to coming to Jamaica, Dr. Harvey practiced in New Jersey and Pennsylvania and was also licensed in New York, Texas and Arizona. He owned and operated ALL'S WELL CHIROPRACTIC CENTERS, in New Jersey and Pennsylvania. He now operates BACK PAIN CHIROPRACTIC CENTERS, in Kingston, Portmore, May Pen, Mandeville and Negril since 1998.
Prior to entering private practice, Dr. Harvey was a course instructor in Clinical Diagnosis for Irene Gold Associates, preparing new graduates to enter the field of chiropractic.
He was the president of the Chiropractic Alliance of New Jersey, a State Association for chiropractors, 1988 – 1996.
CHIROPRACTIC TECHNIQUES include Palmer Package, Diversified, Gonstead, Cox, Logan Basic, Pierce-Stillwagon, Nimmo Receptor Tonus, and Activator.
He has taken exhaustive post-graduate education programs in the field of traumatic spinal injuries, including his Certification in Chiropractic Trauma (CCST) and many others as listed below:
Erhardt X-Ray Seminars, 1979 – 1980, 100 hours
Activator Technique, 1980 Bioenergetic Synchronization Technique (BEST), 1980
Evaluation, Treatment and Case Management of Low Back Syndromes, 1984.
Eastern Conference on the Lumbar Spine, 1986
Physiological Therapeutics Certification, National College of Chiropractic, 1987, 120 hours.
Whiplash and Spinal Trauma, CCST, 1989.
Advances in Personal Injury Practice, 1989.
Role of Chiropractic in Insurance and Industry, 1990.
Over the Counter Medications, 1990
Nutritional Influences of Musculoskeletal Healing, 1990.
Nimmo Receptor Tonus Technique, 1990.
Thoracic Spine, 1990.
Chiropractic and Industry, 1991
Industrial Safety, 1991
Radiology, 1991
Clinical Lab, 1991
Impairment Rating, 1991
Practice Preparation for the Expert Witness, 1991
Posture, Tissue and Health, 1991
Level III, Chiropractic Biophysics, 1992
Physicians Academy Of Advanced Diagnostic And Clinical Procedures, 1992, including:
Applied Spinal Disability, Peripheral Neurology Assessment
Whiplash, the Masters Program, 1992
CT/MRI/EMG – Rehabilitation: Static Strength Testing, 1992
ICA Council on Applied Chiropractic Sciences, Certification in Chiropractic Spinal Trauma, 120 hours, 1994, including:
Legal Ramifications of the Mercy Guidelines on Standards of Care
Trauma, Neurology and the Chiropractic Physician
Principles of Soft Tissue Injury and Repair
Understanding Mechanisms of Injury & Various Effects of Various Trauma
Rehabilitation Protocols Specific for Whiplash, Spinal Trauma and Soft Tissue
Radiology – MRI, CT, VIDEOFLUOROSCOPY & X-Ray analysis
Electrodiagnostics, Neurodiagnostics, EMG & Thermography
Diagnosis, Treatment & Rehabilitation in the Practical Clinical Setting
Reporting & Paperwork – Comprehensive Record Keeping & Reporting
For Documenting Spinal Trauma and Soft Tissue Injury Cases
Impairment Ratings Specific for Whiplash, Spinal Trauma & Soft Tissue
Practical Preparation for the Expert Witness
Diagnosis & Clinical Management of Cervical Acceleration/Deceleration Trauma and Whiplash
Related Temporomandibular Joint Disorders, 1995
Torque Release Technique, 1995
Whiplash & TMJ Injuries, 1996
He continues to advance his knowledge and skills to this day.
He has testified as an expert witness in the US Courts on more than 3500 cases, including vehicular and work related injuries, as well as administrative law cases, and at the federal level on the now infamous RICO case against corrupt government officials: Chiropractic Alliance of New Jersey vs. Parisi, et al, 1996. The chiropractors won!
Dr. Harvey's patients come in with usual complaints, back pain, neck pain, pain radiating into the arms or legs, but his primary emphasis is on wellness and quality of life. "It's not about the pain", Dr. Harvey tells his patients; it's all about restoring function through proper spinal alignment.
You can count on Dr. Harvey to help achieve your health goals. Whether you're looking for pain relief following an accident, sport enhancement or a higher level of health that you seemed to have lost, Dr. Harvey will work with you and tailor individual care plans to meet your needs and health goals. Invite your friends and family to join us and experience health as never before.
Yanique Matthews